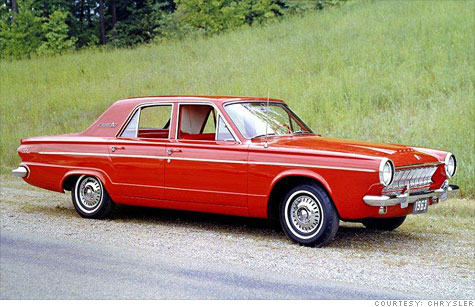 1963 Dart
American car lovers haven't been able to buy a new Dodge Dart since the seventies, but that's about to change. Chrysler/Fiat/Obama Motors is ready to
re-introduce the venerable nameplate
with an Italian accent.
Chrysler Group is tapping its history, resurrecting the Dodge Dart name for a new small car being unveiled at next month's Detroit Auto Show.

The Dodge Dart name was last used on a small car sold in the mid-1970s.
The car will be based on engineering shared with Italy's Fiat, Chrysler's parent company.
2013 Dart
The 2013 Dodge Dart makes use of the same bones as the beautiful Alfa Romeo Giulietta, though the chassis has been both stretched and widened to accommodate the wider britches of American buyers. Chrysler says that a full 68 percent of the vehicle's architecture is comprised of high-strength steel, which means the 2013 Dart should retain much of the rigidity that's made the Giulietta a favorite among buyers and critics alike in the EU.